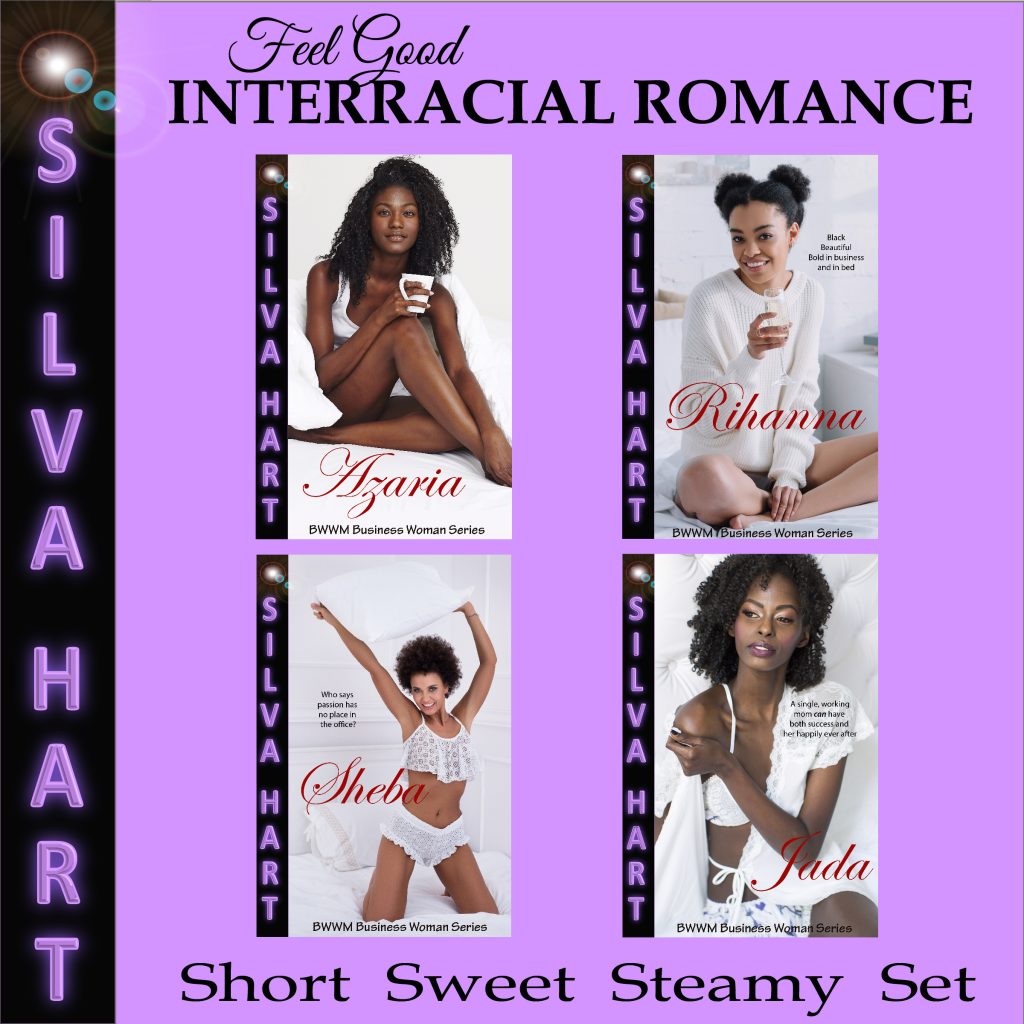 AZARIA:  Golf Alpha + Business Woman = Happily Ever After
I've worked hard to get ahead at my law firm, but a good ol' boy network strangles the place.  As the only African American woman in the office, it's hard to fit in let alone get ahead.  Maybe learning how to golf is the key to the inner circle.  But then I meet country club golf instructor Alex Sinclair.  Inner circle?  What inner circle?  The only place I want into is Alex's heart.  And he seems like he wants to teach me so much more.
RIHANNA: You-Tube Celebrity + Business Woman = Happily Ever After
I try my best to maneuver the office politics at a new job.  It's not easy.  Then I meet an honest to goodness You-Tube celebrity and sparks fly.  I'm talking a fireworks grand finale.  He's gorgeous and intriguing and everything I could ask for.  And he wants me to travel with him.  But I can't just run away from everything I've worked so hard for.  Is he willing to change his life and settle down for me?  With a sizzling connection this good, I know what I hope the answer will be.
JADA:  Single Working Dad + Single Working Mom = Happily Ever After
It's just another day with the play-date group.  Or is it?  The stranger's eyes that lock with mine are the color of acid-washed denim with a circle of deeper blue around the iris.  Then he accidentally spills coffee on me and just has to come into the bathroom to help clean it up.  Well, that was the goal anyway.  But when the door closes, things get dirty.  Afterward, he thinks that has a single mother of three, I've already been through too much, I don't need the hassles that an interracial relationship can attract.  But I'm stronger than that.  And now that I've had him, he's not going back to Canada without me.
SHEBA: Alpha Male + Business Woman = Happily Ever After
Okay, so I've just had the hottest one-nighter in a hotel room with a perfect stranger while out of town for a training and didn't even get his number.  I feel like Cinderella after the ball but the less fairy tale version where she gets home to find both glass slippers still firmly in place.  Then he calls my firm and requests me to be his business consultant.  Oh, I know exactly what he needs.  And I plan on giving it to him.  Every smoking-hot bit of it.
What people are saying about the books in this series:
"It may be a short read, but Silva packs an amazing amount of depth and heart into this short, steamy book. Love, lust, and workplace complexities all come together in a book that is fast and feel good!"
"Excellent entertainment!"
"An entertaining, captivating, and romantic fast pace read! It is well written, witty, funny, interesting, and emotionally deep with fascinating characters; the chemistry between them is instant and off the charts. Definitely recommended."
"I liked this story! The characters are likable; it has a good plot, tension, drama, passion and a HEA. Silva Hart is becoming one of my favorite authors with these fulfilling & heartfelt quickies!"
Want to stay up to date and receive exclusive free extended epilogues?
Join my newsletter!
We value and respect you as our subscriber and will never share or sell your information. You can expect special book promotion deals, giveaways, and juicy insider information plus exclusive free bonus material shared straight to your subscriber page. You can also expect lots of elephants, kitties, and the occasional octopus.
By entering your email address and selecting the subscribe button you are subscribing to the Silva Hart newsletter and agreeing to receive emails and offers from silvahartromance.com. You are also agreeing that you are not offended by kitties, elephants, octopi, or steamy romance.
Please remember to add Silva to your safe senders list. Please also complete the opt in and confirmation process after you subscribe. Remember, you are welcome to unsubscribe and/or renew your subscription at any time.
Thank you and welcome to our community!
~ Sir Silva