From Enemies to Lovers College Reunion Romance Set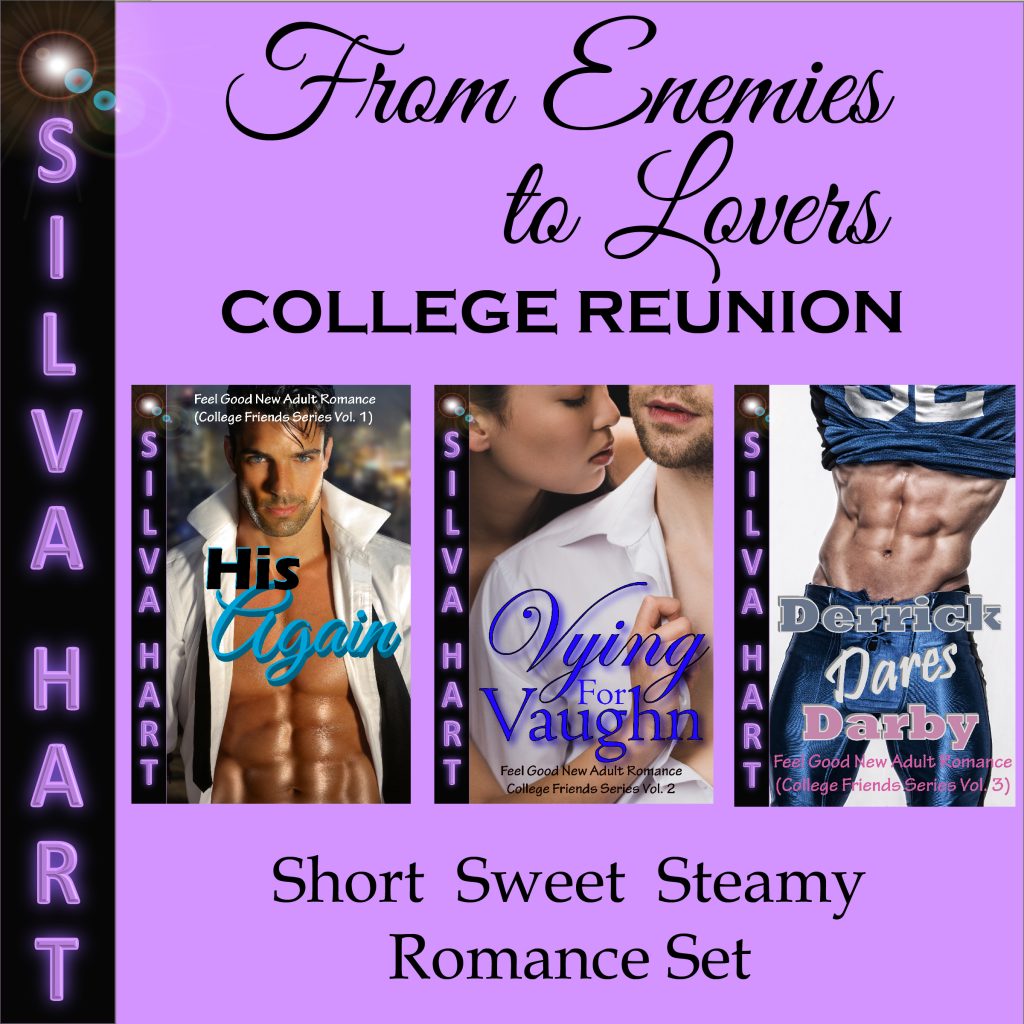 What people are saying:
"…packs a lot of emotions into a short second chance romance … with insecurity, frustration, understanding, forgiveness, love and passion. A perfect short romance!"
"Well written story. Good characters and plot. Nice read. Well created story."
"Such a great read, fun from start to finish."
'One of the things I love about Silva Hart books is that the characters and plot are so relatable and real."
This is an interlocking series of stand-alone books that follows a tight-knit college group and each person's unique journey to finding love.
HIS AGAIN
A group of college friends have been invited to a wedding.  Everyone is surprised to see Vale Davis appear with someone other than Vaughn Valentino.  Vale and Vaughn were always the Golden Couple, the Great Inseparables, of the group.  The chemistry between them could power New York City.  So, why are they now apart?  Is this Ukuru's chance to capture Vaughn's heart?  After the two emerge from a coat room flushed and disheveled, it's clear to everyone that they at least have gotten all of their questions answered.
VYING FOR VAUGHN
Ukuru is strong, passionate, challenging, proud.  Trouble.  She has to be to keep her secret hidden from the world.  But wealthy Umeo with powerful family connections sees through her.  He knows why she plays the tigress.  She may be obsessed with Vaughn Valentino, a man who can't take his eyes off her best friend Vale, but Umeo is determined to make her his.  If anyone can tame the tigress, Umeo can.
DERRICK DARES DARBY
Derrick D'Angelo may be able to bag and tag every other girl on campus, but Darby will be damned if he's getting her too.  But then he starts a Truth or Dare game and triggers her competitive side.  What's a harmless game?  Until his latest dare gets them both trapped in a freight elevator in the middle of the night.  To pass the time until someone comes, they play Truth.  For every pass, an article of clothing has to be removed.  But then all his clothes are off.  And Darby's real moment of truth comes.
Want to stay up to date and receive exclusive free extended epilogues?
Join my newsletter!
We value and respect you as our subscriber and will never share or sell your information. You can expect special book promotion deals, giveaways, and juicy insider information plus exclusive free bonus material shared straight to your subscriber page. You can also expect lots of elephants, kitties, and the occasional octopus.
By entering your email address and selecting the subscribe button you are subscribing to the Silva Hart newsletter and agreeing to receive emails and offers from silvahartromance.com. You are also agreeing that you are not offended by kitties, elephants, octopi, or steamy romance.
Please remember to add Silva to your safe senders list. Please also complete the opt in and confirmation process after you subscribe. Remember, you are welcome to unsubscribe and/or renew your subscription at any time.
Thank you and welcome to our community!
~ Sir Silva